Discover more from Annette's Wanderings
Three newsletters, "Wandering WordsWomen," "Accidental Mentors," and "Memoir Story Craft," from author and wanderer, Annette Marquis
Road Trip Episode 2, Part 2: Winnipeg's Food and Flora
A journey through mid-America and the southern Canadian prairies
Two highlights of my trip to Winnipeg (see Road Trip Episode 2, Part 1 for more), included dinner at a fabulous first nations' restaurant called Feast Café Bistro and a visit to the newly constructed biosphere called The Leaf.
At Feast, I enjoyed Manitoba's official fish, pickerel. Although I learned in researching pickerel that there's debate about whether what I ate is actually pickerel. Some contend the fish Manitobans call pickerel is really walleye, an entirely different fish, while others say they're the same thing. But whatever I ate, it was fabulous, lightly dusted, pan seared, with wild rice & basmati rice w/ caramelized vegetables, grilled carrot spears, spring vegetables and fresh bannock. YUM!
Annette's Wanderings is a reader-supported publication. To receive new posts and support my work, consider becoming a free or paid subscriber.
Winnipeg's Diversity Gardens
The Leaf, Winnipeg's answer to frigid winters, described as an indoor horticultural attraction, is comprised of four major zones, a tropical biome, a Mediterranean biome, a display house for horticultural displays, and a butterfly garden.
I can only imagine how wonderful it will be to visit the tropics in the middle of Winnipeg's long winter!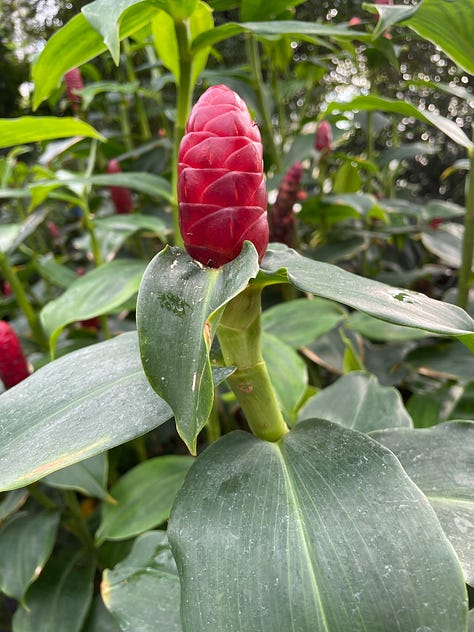 The great butterfly escape
Sadly, although it's only been open a short time, the butterflies have escaped! The volunteer on duty pointed to where the screening comes together at the top of the structure and said the tropical butterflies found their way out. Now, I can visualize one of them doing that, but all of them? Did they gather to plan their escape, was it a follow-the-leader situation, or did each butterfly independently discover that one weak link in this massive enclosure?
And why just the tropical butterflies? Are domestic butterflies content to stay wherever they find themselves, whereas tropical butterflies' internal homing devices call them to fly south at whatever the cost? Inquiring minds, especially mine, want to know! Sadly, I suspect I never will, but I'll be playing with various scenarios for a long time to come. I sincerely hope that the escaped butterflies are happily back in the tropics!
Globally inspired modern prairie cuisine
At the Leaf, we ate at Gather Craft Kitchen and Bar, which bills itself as globally inspired modern prairie cuisine. Who could pass up that? There, Charlotte and I shared the grilled kale salad with pickled apple, candied walnut, shallot, edamame, watermelon radish, with apple balsamic vinaigrette and the coconut korma curry with sweet pepper chutney, charred cauliflower, sweet potato, jasmine rice, toasted cashew, yogurt, and chili threads. And, no I had never heard of chili threads before, but when I looked them up, I found that they even have a Wikipedia page, so I guess it's just me!
Whatever they are, the meal was wonderful, and that's coming from someone who doesn't write much about food. In fact, this is probably the first time I've ever written about my meals while I've been traveling, but these two meals, in addition to the great company and warm hospitality I received, were highlights of my visit to this bustling city on the prairies.
---
Next week, in honor of Hallow's Eve and All Saints Day, I'll share a reflection on ghosts I've encountered during my travels.
Annette's Wanderings is a reader-supported publication. To receive new posts and support my work, consider becoming a free or paid subscriber.