Discover more from Annette's Wanderings
Three newsletters, "Wandering WordsWomen," "Accidental Mentors," and "Memoir Story Craft," from author and wanderer, Annette Marquis
Road Trip Episode 2, Part 1: A Visit to the Prairies
A journey through mid-America and the southern Canadian prairies
I would guess few Americans know much, if anything, about the city of Winnipeg. Those of us who have the luxury to travel to Canada have possibly been to Toronto with its iconic CN Tower and fabled museums and galleries. You might have even visited Notre-Dame Basilica and Biosphere Museum De L'environnement in Montreal or the quaint shops, fortified walls, and fine bistros of Old Quebec. Maybe you've even had a reason to visit the country's capitol in Ottawa.
In Western Canada, you might have visited my wife's favorite city, Vancouver, a city I've never had the good fortune to see. For the more adventurous, a trek to the mountain towns of Banff and Jasper might have taken you through Canada's third largest city of Calgary with its famous Calgary Stampede. My partner Anne and I celebrated Anne's 40th birthday with a trip to the Stampede. I will say that, without a doubt, it was the most incredible vacation we ever took.
It was amazing not just because of the famous rodeo, which I know some of you have deep ethical concerns about, but for the stunning balloon festival, the massive aboriginal pow-wow featuring competitive dancing, drumming, singing, and other indigenous performances, the nightly fireworks, the battle of the bands in all the local drinking establishments, and the old-time chuck wagon breakfasts, to name a few of the diversions the Stampede offers.
We had a blast in Calgary, but when we were done with crowds, we ventured up the scenic Alberta Highway 93 through the Canadian Rockies to the rustic mountain town of Jasper. On the way, we saw elk, bear, glaciers, mountain streams, waterfalls, and vistas beyond compare. This drive offered the solitude we craved after a raucous week in Calgary.
Now on to Winnipeg
In between the rugged Rockies and the vibrant cities of Eastern Canada lay the prairies. The largest of the prairie towns, Winnipeg, at the longitudinal center of North America, serves as a lively center of commerce, education, and culture.
Why did I visit Winnipeg, you might be asking? One of my dearest friends, Charlotte (and one of my Accidental Mentors) grew up there and then after years of working in the States, retired home. Although she's visited Wendy and me in Richmond on several occasions, we haven't been to Winnipeg in almost a decade. It felt like time. And it served as the perfect ultimate destination for my post chemo road trip.
Winnipeg welcomed me in grand style
I decided to take this trip in October so I could see fall colors and miss bad weather. But Winnipeg is nothing if not a winter wonderland, and it did not disappoint! We had two inches of snow on Wednesday night and at least four more before I left on Friday morning.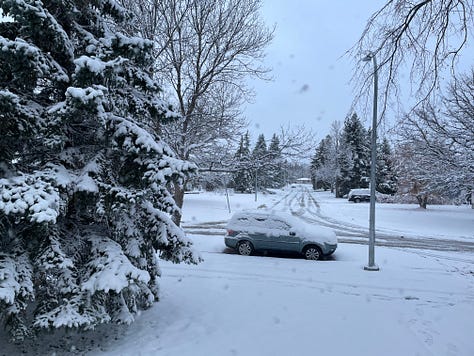 Not surprisingly, Winnipeg has a cold continental climate with a short, very warm summer and a long, cold winter. The average annual temperature in Winnipeg is 3.5°C (38° F). Brr! On one of my earlier visits there, I felt the joy of its winter temperatures. I don't remember if the -25o we experienced was Celsius or Fahrenheit, but does it really matter? IT WAS COLD!
Winnipeg's ancient heart
The heart of Winnipeg is The Forks, an historic site at the intersection of the Red and Assiniboine Rivers. At this place, Nakoda (Assiniboins), Cree and Anishinaabe (Ojibwa) and Dakota people gathering for over 6,000 years trade, connect, and hunt. Later European fur traders, railroad workers, and immigrants gathered here as they prepared for deeper incursions into the Canadian wilderness.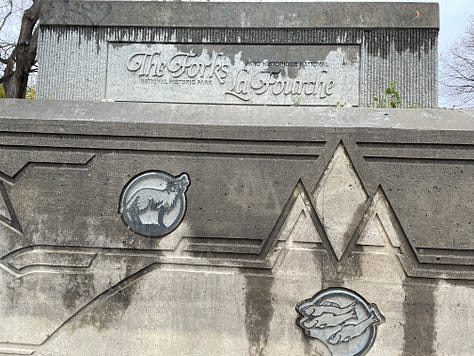 And today, commerce has returned as a central focus of The Forks, one that I gladly participated in. Although I rarely have a need for winter boots in Richmond, I couldn't resist these beautiful mukluks!
Winnipeg the Bear
One of my discoveries while in Winnipeg this time was that one of my favorite fictional character, Winnie the Pooh, was named after Winnipeg. Harry Colebourn, a Canadian soldier and veterinarian, brought a cub to the London Zoo. He named the cub, "Winnipeg Bear" after the town he grew up in. Christopher Robin, the son of A. A. Milne, visited the bear frequently and named his teddy bear after Winnipeg Bear. Milne combined it with the name of a friend's pet swan, called "Pooh," to create Winnie-the-Pooh. I didn't get to see the Colebourn and Winnipeg statue, so that'll give me something to look forward to on my next visit!
Canadian Museum of Human Rights
While in Winnipeg, Charlotte and I visited the Canadian Museum of Human Rights, a stunningly beautiful structure housing a remarkable museum focused on human rights. It covers everything from the obliteration of Jewish rights in the Holocaust to the progression of LGBTQ rights today. The museum has a special focus on aboriginal and Innuit rights throughout Canada, particularly in naming the atrocities that took place at Indian residential schools and in bringing attention to missing and murdered Indigenous women and girls in Canada. Both sobering subjects that I knew a little something about, but the museum deepened my understanding and helped me better appreciate the pain both issues have caused.
Canada's Rosa Parks, before Rosa Parks!
I'm most excited that the museum introduced me to Viola Desmond, the inspiration for Canada's $10 bill. Often called the Canadian Rosa Parks, Desmond took an anti-segregation stand in a Nova Scotia theater in 1946 by sitting in the whites-only section (nine years before Rosa refused to give up her seat on a bus) Ms. Desmond was arrested and fined, and just like Ms. Parks, helped inspire the country's Civil Rights Movement. Learning about Ms. Desmond reminded me how mono-cultural I am.
Despite years of personal study of the American Civil Rights Movement, and a deep connection to another Viola, Viola Liuzzo, I had never heard of Viola Desmond. Charlotte gifted me with a $10 bill, which I'll keep to remind me that there's always more to learn.
In Part 2 of "A Visit to the Prairies," I'll share more with you about the great city of Winnipeg, this time focusing on its food and flora. And you won't want to miss "the great butterfly escape!"
Annette's Wanderings is a reader-supported publication. To receive new posts and support my work, consider becoming a free or paid subscriber.
---
Accidental Mentors
Now that I've finished publishing the Accidental Mentors series, you can visit any of the posts you missed or revisit any of the posts you want to reread here:
And although I finished writing about my Accidental Mentors, I'm looking forward to your submissions about the women who shaped your life. Here are the submission guidelines. Please submit soon, but no later than December 15, 2023. Thanks!